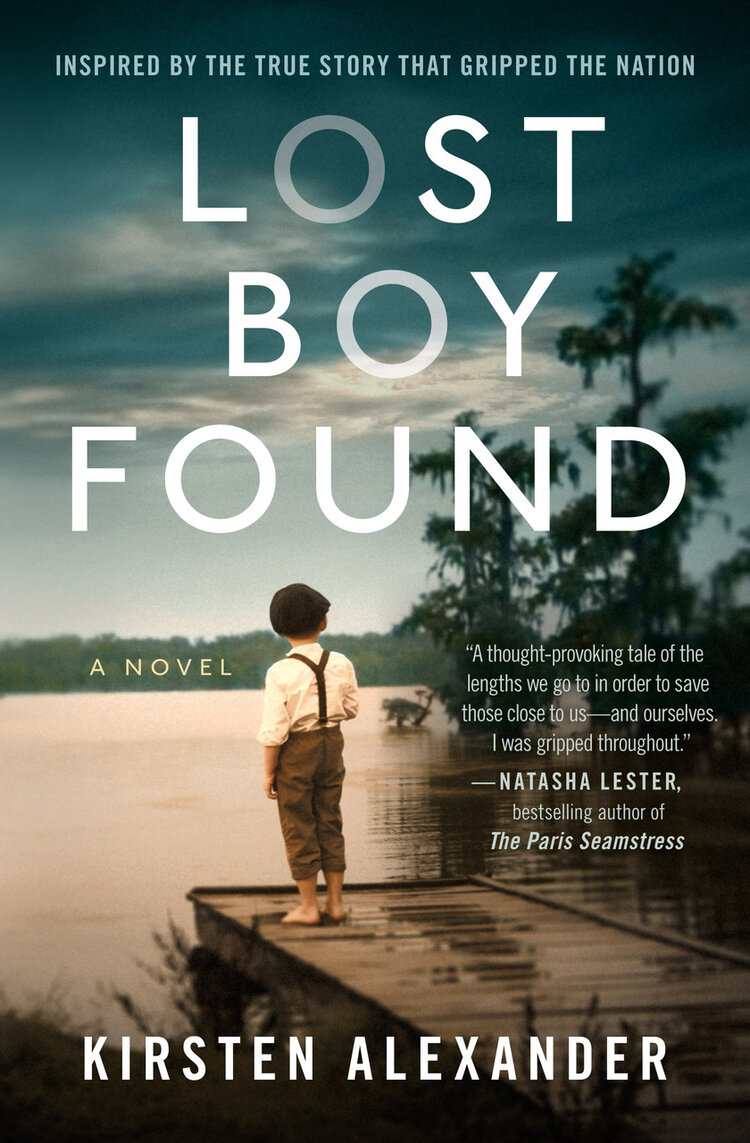 Lost Boy Found is the North American and Canadian edition of Half Moon Lake, published by Grand Central/Hachette in 2020.
On a summer's day in Louisiana, 1913, Sonny Davenport wanders away from his family's vacation home at Half Moon Lake and doesn't come back.
The boy's mysterious disappearance makes front-page news in his home town of Opelousas. John Henry and Mary Davenport are wealthy and influential and will do anything to find their child. They search for Sonny across the state and throughout the South. After years of crushing disappointments following hope, he is found with a peddler in Alabama. But the Davenports' joy at finding their son is cut short when another woman, unwed domestic worker Grace Mill, claims the boy is hers.
As the two mothers fight to claim the child, people choose sides, testing loyalties, the notion of truth, and the meaning of the word family.
Lost Boy Found is a work of fiction. There is, however, a true story that inspired the novel – that of American boy Bobby Dunbar. Reporter Tal McThenia and Margaret Dunbar Cutright tell that fascinating tale in A Case for Solomon: Bobby Dunbar and the Kidnapping that Haunted a Nation (Free Press, a division of Simon & Schuster Inc, 2012).
"A terrific premise, which becomes more than just a page-turning story; this is a complex and thought-provoking tale of the lengths we go to in order to save those close to us — and to save ourselves. I was gripped throughout." NATASHA LESTER, The Paris Orphan
"An evocative, unputdownable story about every parent's worst nightmare — losing a child. With a deft hand, Alexander introduces us to a cast of flawed, fascinating characters, then leads us through the story, making us rage in one line and breaking our hearts in the next. Many times I wanted to step into the pages of this book to put things right—a sure sign of a compelling read. I highly recommend this novel." SALLY HEPWORTH, The Mother-in-Law
"This is why we read novels — to come across a story such as Kirsten Alexander's Half Moon Lake. Alexander's tale of a young boy gone missing in rural Louisiana in 1913 is written in calm and fluent prose from beginning to end, yet at the same time the narrative drama remains intense throughout. The search for the missing boy argues that love and longing can lead to corruption of the soul, without any evil intent. In it's craft and psychological subtlety, Alexander's story comes close to a masterpiece." ROBERT HILLMAN, The Bookshop of the Broken Hearted
"A compelling tale, full of wonderfully drawn characters and richly evoked locations, with a wrenching story at its heart. This book defies categorisation. Elements of mystery, true crime, family drama and social commentary are woven together seamlessly. Half Moon Lake should be read and re-read — devour it for the engrossing story, and return to it for the lyrical language." MEG KENEALLY, Fled

Published by:
Grand Central/Hachette (US & Canada, 2020)
Available from:
Booktopia
Lost Boy Found is set in 1913-1916. It was a time of incredible social, cultural and technological change — women campaigned for the right to vote, Jim Crow laws were in force, the First World War began; stainless steel, crossword puzzles, bras and gas masks were invented; every art form was radically reconsidered. The music embodied much of this dynamic time. This was the era of ragtime, dixieland, classical music like no one had heard it before (there were riots when Stravinsky's Rite of Spring was first performed in Paris), the earliest jazz, and wartime songs. So here's a playlist to accompany Lost Boy Found, from America's South and beyond.
Listen to the Lost Boy Found playlist here.

Media & Events
Lost Boy Found will be published in the United States and Canada in 2020.